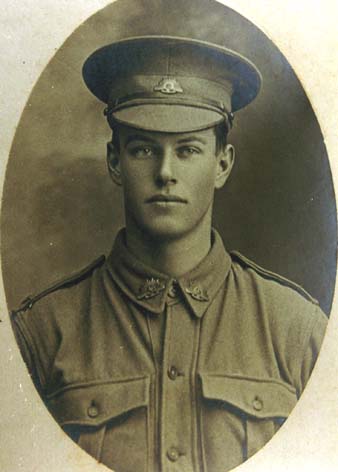 Wilfred Jones ('Fred') was born in 1896 in Yarrawonga, Victoria, Australia. He was the tenth child of John and Agnes Jones.
Wilfred became a farmer, living with his parents on a wheat-growing property called 'Erindale' at Berrigan, NSW. Australia was calling for volunteers to fight in World War I; so Wilfred enlisted in the Australian Imperial Force on 8 May 1916 at the age of 20.
Wilfred was about 5' 8" tall with blue eyes and light brown hair. He was sent to northern France into the terrible trench warfare of World War 1.
He became a Lance Corporal, number 2698 in the 46th Battalion, B company. Private D Wm Lowe reported that Wilfred was awarded 'his stripe' on the boat called 'Port Lincoln', whilst coming over from Australia.
Wilfred was 'attached for duty' to the 45th Battalion on 6 June 1917. Then he suffered a gun shot wound to the left thigh during the attack on Messines at about 10 am on 7 June 1917.
A report in the Australian Red Cross Society Wounded and Missing Enquiry Bureau Files said Wilfred was admitted to an aid station on 9 June in a 'very low condition'. Despite treatment by the surgeons he gradually became unconscious and died in the 1st Australian Casualty Clearing Station in Bailleul on 10 June 1917 aged 21 years.
He was buried in the Bailleul Military Cemetery on 11 June with Chaplain the Reverend Henry Vine conducting the service at the graveside.
Wilfred's father was forwarded his personal effects that included a letter and photo, a pipe, cigarette case, fountain pen and wrist watch.
Wilfred's mother wrote a letter to AIF Base Records at Melbourne, Victoria, on 19 October 1917 asking for further details about her son's death. She wrote:
The following death notice was inserted in The Argus, a Melbourne newspaper, on 29 June 1917:

'JONES. Died of wounds, on 10th June, at field dressing station, somewhere in France, Lance Corporal Wilfred Raymond Jones, dearly loved youngest son of John and Agnes Jones of "Erindale", Berrigan, NSW, aged 21 years 3 months.

Duty nobly done.'

Right: The grave of Wilfred Raymond Jones in the Bailleul Communal Cemetery Extension, Nord.

The inscription at the bottom of the headstone reads:
'Loved son of J & A Jones of Berrigan NSW. Rest Aye'

Photograph kindly supplied by Gerard Lemaire of Le Cercle d'Histoire de Bailleul
On the grave of his father, John Jones, in the Berrigan Cemetery, there is a prominent inscription in memory of Wilfred Jones, saying:
'Also our beloved son, Wilfred, killed in France, 10th June 1917, aged 21 years.'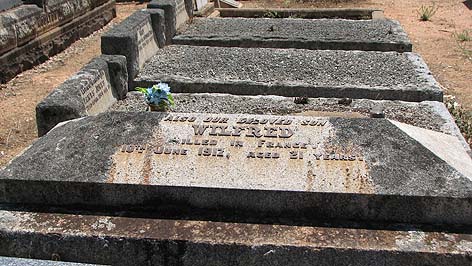 Above: The memorial to Wilfred Jones in the Berrigan Cemetery, NSW.
Photograph kindly supplied by Tony Jones.
(1) The newspaper report mentioned by Agnes Jones in her letter (shown above in the yellow box) was written by CEW Bean, official correspondent with AIF in France, on 30 August 1917. It was published in various newpapers including the
Mildura Cultivator
(5 Sep 1917) and the
Sydney Morning Herald
(1 Sep 1917).
It describes how the Australian Clearing Hospital came under shellfire at Messines and also bombing by aeroplanes. It states that five nurses were given military medals for their utmost gallantry -- "staying in the wards and even placing basins on patients' heads instead of steel helmets." Full copies of these reports can be accessed through the
National Library of Australia's Trove website
.
---
Two of Wilfred Jones' cousins also paid the supreme sacrifice in World War I:
-- Sydney Victor Jones died at Gallipoli on 10 June 1915, aged 18
-- Norman Percy Jones died in the Somme on 23 October 1916, aged 29
Sydney and Norman were the sons of Evan and Mary Ann Jones of Finley, NSW.