The Adopt-A-Road Program for Comleroy Road

The Adopt-a-Road Program of Hawkesbury City Council supports volunteers who regularly clean up litter from their adopted sections of local roadsides as indicated by these signs.

In 2009 Les Dollin adopted eight kilometres of Comleroy Road, Kurrajong, in acknowledgement of the local community who help keep this wonderful road clean.
Les Dollin's Vision for Comleroy Road, Kurrajong

Comleroy Road runs parallel to the Blue Mountains along the top of the foothills. The view from Comleroy Road just takes your breath away, with its grand vistas of the Blue Mountains to the west and sweeping views of the Sydney Basin to the east.
My vision is that the road should have a continuous lawn on either side. With its magnificent views, this would create a 'drive through park'. Since the views are so impressive, the road itself must look immaculate -- a showpiece to the district, reflecting the pride of the local community.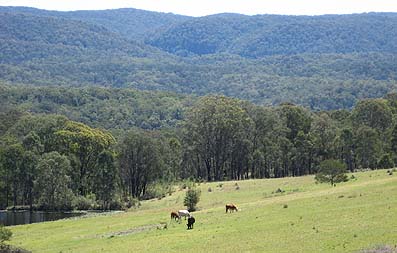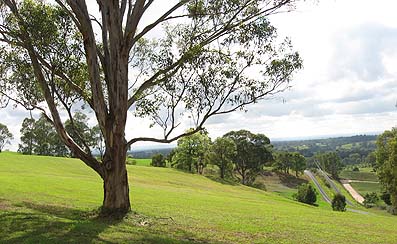 Magnificent views from Comleroy Road, Kurrajong
Mowing the Road

To achieve a continuous lawn effect, the road has to be mown regularly. The local residents living along the road have even bought new lawn mowers to help achieve this goal.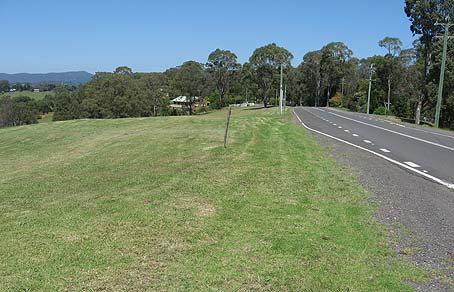 Removing Litter from Comleroy Road

To keep Comleroy Road free of litter, you really have to walk along the whole road as half of the litter items are hidden in the grass. A broken bottle sitting up on its base with sharp jagged edges could injure a horse's hoof or puncture a car tyre. Also items, such as plastic shopping bags, that the wind has blown over fences, and items, such as light aluminum cans, that rainwater has washed into drains have to be picked up for safety and environmental reasons.
Amount of litter on Comleroy Road

The amount of litter on Comleroy Road has diminished over the last three years as the appearance of the road has improved. However, to achieve this the rubbish has had to be removed constantly. One sweep of the eight km length of Comleroy Road picking up litter takes six hours.
Each week one 240 litre wheelie bin of litter is collected, consisting of the following items:
-- Aluminum cans 45%
-- Paper tissues, bags, cardboard food and drink boxes 30%
-- Glass bottles 10%
-- Plastic bottles 10%
-- Cloth 1%
-- Rubber 1%
-- Rope 1%
-- String 1%
-- Wire 1%
A Worthwhile Effort
However, all this effort is well worthwhile because, when the road is free of litter, Comleroy Road's magnificent views and beautiful lawns can be enjoyed by all residents and visitors.
The ongoing assistance of local residents in keeping Comleroy Road beautiful is greatly appreciated!