The Mower Man of Comleroy Road, Kurrajong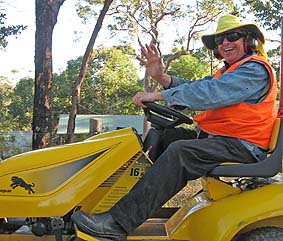 Les Dollin has lived in the Comleroy Road area of Kurrajong all his life. As he travelled along the road he noticed it was becoming more and more overgrown.

Because of the state of the road, riders like Les' niece, Julia, were having trouble riding their horses along the road side. Walkers were unable to walk safely along the road. The undergrowth was also making Comleroy Road ineffective as a fire break for the local residents.

So Les began spending about five hours a day cleaning up the verges of the road and mowing the grass. Local residents helped clean up the verges near their homes and kept them maintained.

In 2007 Les spent six months clearing weeds from an overgrown park on Comleroy Road near Peel Parade. The Kurrajong Rural Fire Brigade helped burn all the debris. Then the local community and the Hawkesbury Council assisted by planting native trees in the park.
Les' vision is to have Comleroy Road, Kurrajong, as a beautiful drive through park. Les has received wonderful encouragement from local residents and road users. It has been a real pleasure to do this voluntary work along Comleroy Road with such support.

Right: The Adopt-a-Road program of Hawkesbury City Council supports volunteers who regularly clean up litter from their adopted sections of local roadsides as indicated by these signs. In 2009 Les Dollin adopted eight kilometres of Comleroy Road, Kurrajong, in acknowledgement of the local community who help keep this wonderful road clean.
Articles in the Local Press about Les' Work:
On the Job for Love of Road -- 1 February 2007
Angel of Comleroy Road -- 29 November 2007
New Set of Wheels for Mower Man Les -- 10 June 2009
Below: Four stages in the restoration of the park on the corner of Comleroy Road and Peel Parade, Kurrajong:
1 - original condition of the park in 2007;
2 - just after the native trees were planted;
3 - the trees are growing up and the lawn is fully established in 2008;
4 - visitors enjoying walking through the park in 2009.