Caroline Amor Dollin
b 8 Jul 1858; d 1931

Born in Clarence Town, NSW. Daughter of Thomas Dollin and Mary Ann Amor. Note: Mary Ann's mother was also named Caroline Amor.

Married a carpenter from Sydney, James Whitbread, on 25 Jan 1887. James was born in England in 1859.

Caroline Amor Whitbread (nee Dollin) died in Marrickville, NSW, in 1931.

Son of James Whitbread and Caroline Amor Dollin

Eric Stanley Whitbread - b Jul 1895; d 19 Jul 1916


---
Eric Stanley Whitbread
b Jul 1895; d 19 Jul 1916

Born in St Peters, NSW. Son of James Whitbread and Caroline Amor Dollin.

Eric Whitbread was an apprentice fitter and turner living in St Peters.
He enlisted with the Australian Imperial Force in 53rd Infantry Battalion in Sydney on 14 Aug 1915. He was 5' 8" tall with hazel eyes and black hair. His regimental number was 3476. He served in France and was killed in action on 19 Jul 1916, aged 20, during the 'Attack at Fromelles'.
Eric Whitbread has no known grave but is commemorated in the VC Corner Australian Cemetery, Fromelles, France.
Visit the Commonwealth War Graves Commission website for more details.

There were no photographs of Eric Whitbread in family collections that we searched. These photographs of Eric were discovered in 'The Sydney Mail' newspaper, where hundreds of photographs of soldiers missing or killed in action were published.
Far left: The Sydney Mail, 27 Sep 1916, published after Eric was declared missing;
Left: The Sydney Mail, 14 Nov 1917, published after his death was confirmed.
The Memorial Plaque and Letter from King of England sent to James and Caroline Whitbread after their son, Eric Stanley Whitbread, was killed in the First World War
In 2015, we received an exciting email from Michele about Eric Whitbread. Michele said that her grandmother had been pledged to marry Eric when he returned from the war.

Eric Whitbread had been initially reported missing, following the tragic battle on 19 July 1916 when he lost his life. Sadly, it was 14 months before authorities finally informed his anxious family that he had died. Michele said her grandmother never quite got over Eric and she waited years, hoping that he would come home.

Michele found an original copy of one of the photos of Eric in her grandmother's photo album, along with a photo of her grandmother at the time. We thank Michele very much for this precious information about Eric and this much better photograph of him. This must have been a terrible time for Michele's grandmother. However, we were pleased to learn that Eric enjoyed such a loving relationship before he went to the war.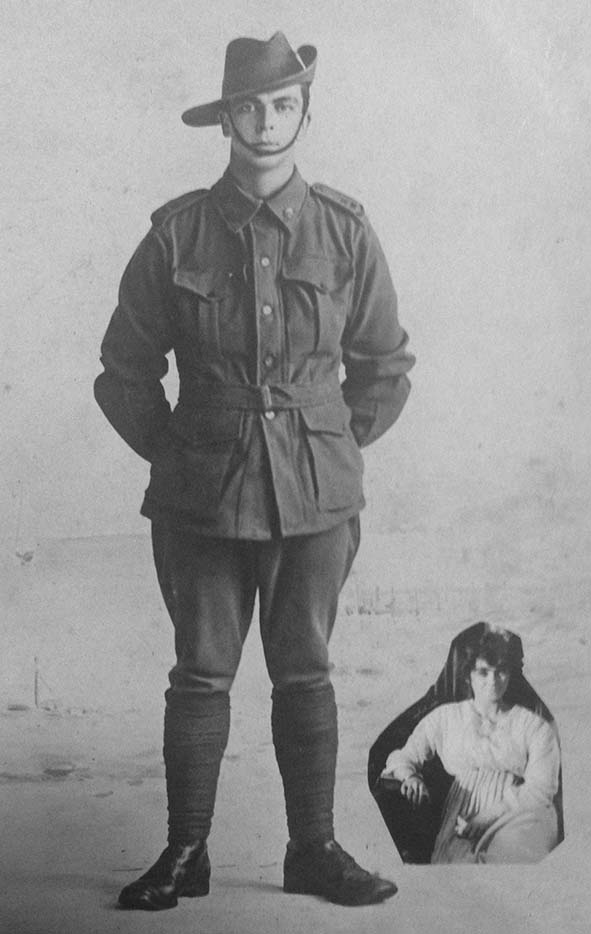 The full-length photograph of Eric Whitbread, kindly supplied by Michele. A small photograph of Michele's grandmother, who was pledged to marry Eric, was attached.
Les Dollin Homepage • Dollin Family Tree • Photo Gallery Index • Links • Contact Us
© 2008-2018. lesdollin.com . All Rights Reserved. A site about the Dollin Family in Australia.