There are records of the Dollin family in Dunster, Somerset, England, going back to at least the 1500s. Here are some scenes from this picturesque medieval town.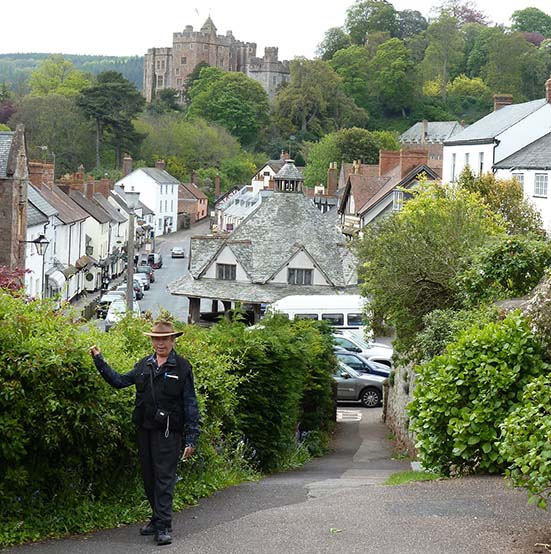 Above: Les Dollin stands at the top of the main street of Dunster. Behind him can be seen the hexagonal Yarn Market and in the distance, Dunster Castle on top of the far hill.

Below: Dunster's quaint Yarn Market, where spinners sold their woollen yarn, was built in 1547.
Above and left: Dunster Castle, where the Luttrell family lived for 600 years, stands on a hill high over Dunster. From the Keep Garden at the very top of the hill, there are panoramic views of the surrounding countryside and the Bristol Channel.

Above: St George Church, Dunster, dates back to at least the 1100s. Its 100 ft high Somerset tower was built in 1443.

Left: Les Dollin stands at the gate of St George Church where at least five generations of his Dollin family had been baptised.
More details.

Below: The famous Rood Screen inside St George Church is 54 feet long.

Above: The monument to the Luttrell family inside St George Church.

Left: The octagonal baptism font (circa 1530), with its ornate wooden cover, where generations of the Dollin family would have been baptised.

Above: Dunster water mill beside the sparkling River Avill.

Left: Dunster watermill has two waterwheels.
Above: Les Dollin on the charming Gallox or Packhorse Bridge at the end of Park Street, Dunster.
Above: At the end of Park Street, once called Water Street, is this lovely thatched cottage where the Dollins used to live.

Left: At the end of Park Street, Dunster, there is now a children's playgound. Behind the playground is a playing field once called 'Dollin's Meadow'. An alternative spelling seen on an old map was Dolland's Meadow.

This children's playground and the playing field are on portions of land described as 'Dollin's meadow' and 'Dollin's garden' on the 1840 Apportionment of Rent Charge documentation. More details.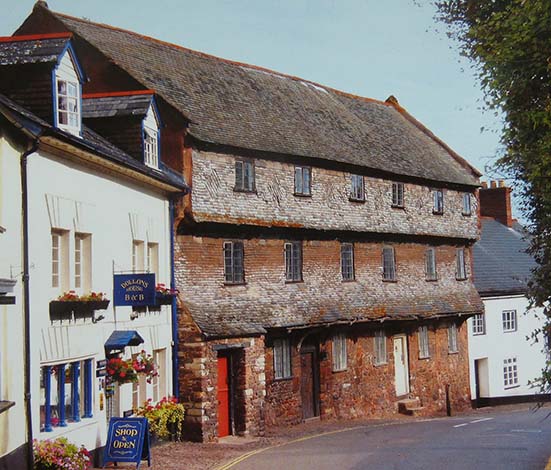 Above: Dollon's House and the old Nunnery building in Church Street, Dunster, as seen on an old postcard. More details.

Below: Today the lovely Hummingbird gift house is in Dollons House.
Below: The meadow beside the River Avill south of Gallox Bridge, Dunster. Phillip Dollin and his sons worked a meadow here in the 1760s-1780s. More details.
To see more photos of Dunster visit the Morrison Family Connections website.