The following chart gives a reconstructed ancestry tree based on parish records in the 1700s of the Dollin family in the Dunster area of Somerset, England.
It begins with Robert Dollin, the father of Henry Dollin baptised in 1699 and works down through four generations of Dollins in Dunster, England, to our direct ancestors, John Dollin and Mary Ann Gould, married in 1820.
It is based on baptism, marriage and burial records in the St George Church, Dunster. The parish records of this church on microfilm were kindly examined in detail for the Dollin family by Kerry McConnell. A valuable online transcript of most of these records has also been prepared by Phil Mustoe on the Genuki website.
Click on the blue underlined links in the diagram below to read more about the individuals and families in the Dollin family tree!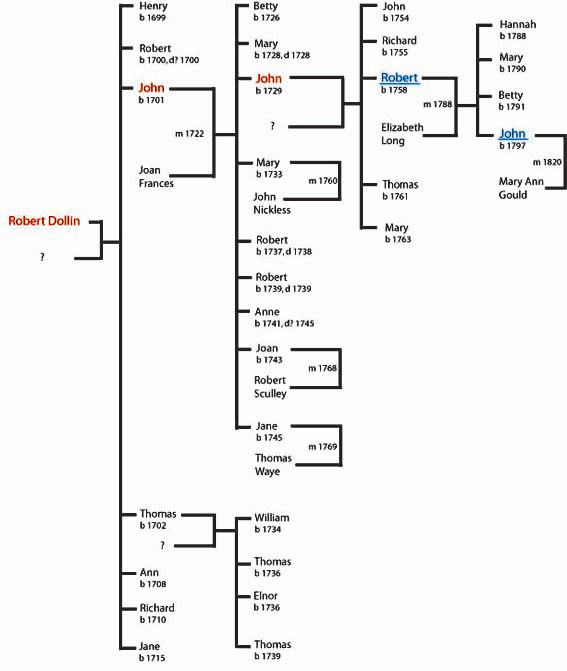 In this chart: b = baptism date; m = marriage date; d = death date

The key individuals represented in this chart are:

-- Henry Dollin b 1699; Robert Dollin b 1700; John Dollin b 1701(married Joan Frances); Thomas Dollin b 1702; Ann Dollin b 1708; Richard Dollin b 1710; Jane Dollin b 1715;

-- Betty Dollin b 1726; Mary Dollin b 1728; John Dollin b 1729; Mary Dollin b 1733 (married John Nickless) Robert Dollin b 1737; Robert Dollin b 1739; Anne Dollin b 1741; Joan Dollin b 1743 (married Robert Sculley); Jane Dollin b 1745 (married Thomas Waye);

-- William Dollin b 1734; Thomas Dollin b 1736; Elnor Dollin b 1736; Thomas Dollin b 1739;

-- John Dollin b 1754; Richard Dollin b 1755; Robert Dollin b 1758 (married Elizabeth/Betty Long); Thomas Dollin b 1761, Mary Dollin b 1763;

-- Hannah Dollin b 1788; Mary Dollin b 1790; Betty Dollin b 1791 and John Dollin b 1797 (married Mary Ann Gould).

---
Some other Dunster records that we were unable to place on our chart are:

Daughter of Henry and Anne Dollin
-- Mary Dollin b 1682

Daughter of John Dollon
--Anne Dollon b 1703

Marriage of George Dollin and Elizabeth Read 1734

Children of George Dollin
-- Robert Dollin b 1734
-- Grace Dollin b 1736; d 1742
-- Betty Dollan b 1739; d 1742

Daughter of William and Elizabeth Dollin
-- Mary Dollin b 1759


---
Somerset Records in the 1800s
(A) Family groups that are part of our own direct Dollin ancestry line
-- John Dollin (born in 1797) and his wife, Mary Ann Gould, and children in Dunster, 1841, 1851, 1861, 1871.
-- Robert Dollin (baptised in 1828) and his wife, Ann Burgess, and children in Bristol, 1871, 1881, 1891.
-- John Dollin (baptised in1826) and his wife Harriet Gill and/or children in Taunton, 1871, 1881, 1891.
-- Robert Henry Dollin (born in 1854) and his wife, Mary Ann Caddick and children in Bedminster, 1881, 1891.


(B) Other Somerset Dollin families that may not be connected with our direct ancestry line