John Dollin
bap 26 Feb 1797; d 28 Jan 1875

Baptised in Timberscombe, 2.5 miles SW of Dunster, Somerset, England. Son of Robert and Betty Dollin.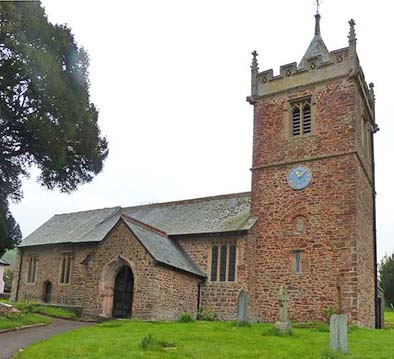 The fifteenth century St Petrock's Church at Timberscombe where John Dollin was baptised in February 1797
According to the transcription of the 1861 UK census, John was born in 'Schwarzburg-Sondershausen (in Germany), Dunster' in about 1796. However, Schwarzburg does not appear in the online scan of the 1861 census record and we have been unable to locate the source of this information. All three of the scanned census pages from 1851, 1861 and 1871 state that John Dollin was born in Dunster.

Married Life
John Dollin married Mary Ann Gould on 23 Apr 1820 in St George Church, Dunster, Somerset, England. Mary Ann was born in c 1799 in Devon according to the 1861 census.

John Dollin's name was name spelt 'John Dolland' in the St George Marriage and Baptism Registers of 1820 but clearly matches in other particulars.

In the St George, Dunster baptism registers for his children, John's occupation was recorded as:
-- a Mason in 1820 and 1826;
-- a labourer in 1828, 1831, 1833 and 1835; and
-- a carpenter in 1841.

In the 1840 document titled 'Apportionment of the Rent Charge in lieu of Tithes in the Parish of Dunster', a John Dollin was listed under a 'Water Street' subheading as the occupier of a house and garden on Portion 51. Water Street (now called Park Street) is in the south western corner of Dunster, whilst Portion 51 is in the north eastern corner. It is unclear what this means -- perhaps there was a clerical error in this record.
The 1841, 1851 and 1861 UK census records show John Dollin living with his wife Mary Ann and children in Water Street, Dunster.

In the 1871 census shows John still living at Water Street but John's wife, Mary Ann, had died since the 1861 census. John's daughter, Jane Trott, and her husband and two sons were living with John.
Death Records
A death notice in the West Somerset Free Press on 6 Feb 1875 (kindly provided by David Bromwich) stated that a Mr John Dollin died at Dunster on 28 Jan 1875, aged 78 years.
The St George Church, Dunster, burial register lists:
-- a Mary Dollin who was buried in Dunster on 12 March 1871 aged 72
-- a John Dollin who was buried in Dunster on 2 Feb 1875 aged 78.

The 'Dunster Parish Magazine', March 1875, also includes a burial notice that reads: 'February 2: John Dollyn, Dunster, aged 78 years.'
The UK Death Records show two 'Dollyn' deaths recorded in the Williton District (which includes deaths in Dunster):
-- a Mary Dollyn in 1871 (born about 1799), and
-- a John Dollyn in 1875 (born about 1797).
The evidence suggests that these are the death records of John Dollin and Mary Ann Dollin (nee Gould). [Note: Dollyn is one of the spelling variations of the Dollin name. John's son's family, John, Jane and Robert, had been recorded under the name 'Dallyn' in the 1851 census.]
Cemetery Records
In 1884 William Adlam esq. recorded the inscriptions on graves in the churchyard of St George, Dunster.
Then recently Ann Leigh transcribed and mapped all of the remaining headstones in the churchyard.
In 2011 Ann Leigh published both her own and Adlam's transcriptions in an excellent book entitled: Parish and Priory Church of St George, Dunster, Somerset - Burials 1813-2980 and Monumental Inscriptions.
No headstone for John Dollin has been recorded. However, in 1884 William Adlam did find a headstone for our Mary Ann Dollin in this churchyard and he recorded the following inscription:
Cross
Mary Dollin born 1799 died March 2nd 1871.
"Till the day break." Cant. iv, 6.
Sadly rain and the passage of time have badly weathered the headstones. Today, many of the headstones in this churchyard are illegible. The grave of Mary Dollin is no longer marked by a legible headstone.
However, William Adlam did state that Mary's headstone had a cross in its design and few of the headstones in the churchyard have crosses on them.

We closely examined all the illegible headstones that had a cross design in the hope that we could identify Mary's headstone.

We only found one headstone that we thought had the appropriate amount of space for Mary's inscription.
In Ann Leigh's Monumental Inscriptions book, this headstone was coded E29. She had concluded that this headstone 'with no inscription visible' was that of Henry Anderson. She suggested that it once bore the following inscription recorded by William Adlam:
In affectionate remembrance of Henry the dearly beloved husband of Sarah Anderson and eldest son of the late William Anderson Esq., of Highwood Hill Middlesex who died at Dunster 18th September 1873 aged 69 years.
"Thou calledst in trouble and I delivered thee" Psalm lxxxi., 7 verse.
Henry Anderson's inscription is over three times longer than that of Mary Dollin and in our opinion there is not enough space on headstone E29 for the Anderson inscription.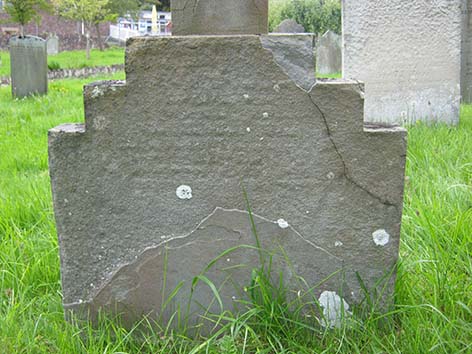 Furthermore, most of the rendered surface, that once bore the inscription on this headstone, has broken off, but traces of the lettering can still be seen in the headstone surface underneath. In the late afternoon sun, we believe it is still possible to trace the letters of the Dollin name written in capitals across this stone.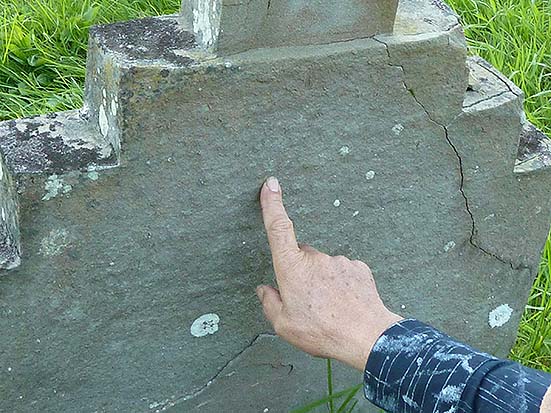 In a case like this, one can never be entirely sure. However, based on these investigations, we believe that this headstone does mark the grave of Mary Ann Dollin (nee Gould) who died in 1871.
Children of John Dollin and Mary Ann Gould

William Dollin (Dolland) - bap 19 Nov 1820; came to Australia c1858
John Dollin - bap 8 Oct 1826
Robert Dollin - bap 9 Nov 1828
Henry Dollin - bap 9 Nov 1828; came to Australia 1855
Thomas Dollin - b 1 May 1831; came to Australia 1857
Elizabeth Dollin - bap 10 Nov 1833; d 30 Mar 1834 aged 5 mths
Mary Ann - bap 29 Mar 1835; d 18 Oct 1835 aged 7 mths
Ann Dollin - bap 11 Feb 1837; d 19 Feb 1837 aged 6 days
Eliza Dollin - bap 13 Jul 1838; d 26 May 1839 aged 10 mths
Jane Dollin - bap 27 Jun 1841

Symbols: b = born; bap = baptised; d = died