For the centenary of the First World War, we have researched the history of soldiers in our family who served in the Great War. Three of these soliders paid the supreme sacrifice and we pay tribute to these soldiers on this page.


Eric Stanley Whitbread (1895-1916)

Eric was the only child of James and Caroline Whitbread of St Peters, NSW.
He enlisted with the Australian Imperial Force in 53rd Infantry Battalion in Sydney on 14 Aug 1915. He served in France and was killed in action on 19 Jul 1916, aged 20, during the 'Attack at Fromelles'. Eric Whitbread has no known grave but is commemorated in the VC Corner Australian Cemetery, Fromelles, France.

Clyde Edward Davis (Joe) (1886-1916)
Clyde Davis ('Joe') was the son of Richard and Louisa Davis of Auburn, NSW.
He enlisted with the Australian Imperial Force in Holdsworthy on 30 Aug 1915 and served with the 4th Australian Pioneers. He was wounded in action on 29 Aug 1916 in the Battle of the Somme, France, and died from his wounds on 31 Aug 1916, aged 30. Clyde Davis is buried in the Puchevillers British Cemetery, near Amiens, France.

Wilfred Raymond Jones (Fred) (1896 - 1917)

Wilfred Jones ('Fred') was the tenth child of John and Agnes Jones of Berrigan, NSW.

He enlisted in the Australian Imperial Force on 8 May 1916 in Melbourne, VIC, and served in the 46th Battalion as a Lance Corporal. He suffered a gun shot wound to the left thigh during the attack on Messines in France on 7 June 1917. Despite treatment by the surgeons, he died in the 1st Australian Casualty Clearing Station in Bailleul on 10 June 1917 aged 21. Wilfred Jones is buried in the Bailleul Military Cemetery in France.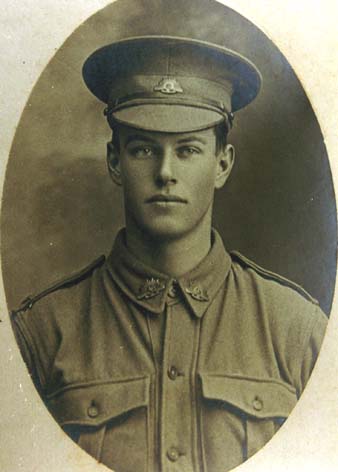 More details about Wilfred Raymond Jones.



Les Dollin Homepage • Links • Contact Us
© 2008-2018. lesdollin.com . All Rights Reserved. A site about the Dollin Family in Australia.